GENERAL INFORMATION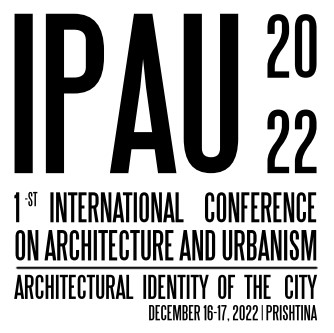 The Faculty of Architecture at the University of Prishtina "Hasan Prishtina" is creating an International Platform for Architecture and Urbanism (IPAU), with the idea of serving local and foreign scientists, researchers, professionals, research scholars and students, to disseminate and exchange their experiences and approaches about particular aspects of Architecture and Urbanism, highlighting sustainable development, urbanism, architectural design, cultural heritage and digital architecture, focusing on the architectural identity of the city during her 1st Conference. 
The identity of the city is a distinct model of collective identity, based on the uniqueness and perceived meaning of the place and broader definition. The identity of a city is built over time through architecture, which includes three sign systems: visual, material and narrative. Among the many institutional factors to communicate, including the sign system, different groups of professionals are involved: architects, city planners, political scientists, writers and engineers, even local and foreign cultural guides and critics, who perform their synergistic work to build the identity of the city. For this purpose, the Faculty of Architecture holds the first IPAU 2022 Conference, with the topic: "Architectural Identity of the City", to discuss theories and practices, opportunities and challenges of sustainable development, for the construction of the architectural identity of the city on the basis of six thematic areas:
Sustainability in Architecture
Architectural design
Urbanism and spatial planning
Architectural Heritage
Digital Architecture
Energy Efficiency in buildings
This platform will feature prominent international and local speakers, academic and professional sessions, roundtable discussions and other interactive debates, to ensure that all participants benefit as much as possible from this conference and its international format.
IMPORTANT DATES
| | |
| --- | --- |
| Deadline for abstracts submission for Papers and Posters | 15 October 2022 |
| Notification of Abstracts Acceptance                                     | 22 October 2022 |
| Submission of Extended Abstract and Posters                 | 12 November 2022 |
| Notification of Extended Abstract and Posters                              | 28 November 2022 |
| Conference Dates | 16-17 December 2022 |